Today we want to announce a road map for upcoming features coming to the community website. These features will be listed together in sections for when they will be launching together. Because we're unsure when these will be launching, we will use generic names for these updates instead of the official version schema.
---
The current version of the website is 20.1.4 - If you're unaware how our version schema works, this is it:
Last two digits of the year:
20
Major Version (Starting at 1):
1
Bug Fixes:
4
If the next major is released before 2021, this version will be 20.2. If it is released during 2021, this version will be 21.1
---
Next Major Update
Direct Messaging
Currently being worked on and expected to be released in the next major version.
The design is not final and functionally it is nearly complete. It currently supports creating DMs and Groups and sending real-time messaging between clients. However, some functionality such as leaving a group is not yet available.
Expected feature set:
Direct Messages to individuals, groups and the ability to create invite links for groups up to 128 participants.
Messaging is in real time, allowing users to communicate quicker and more efficiently.
This does not replace our Discord server, it complements it for people looking to communicate and share information without having to create a Discord account.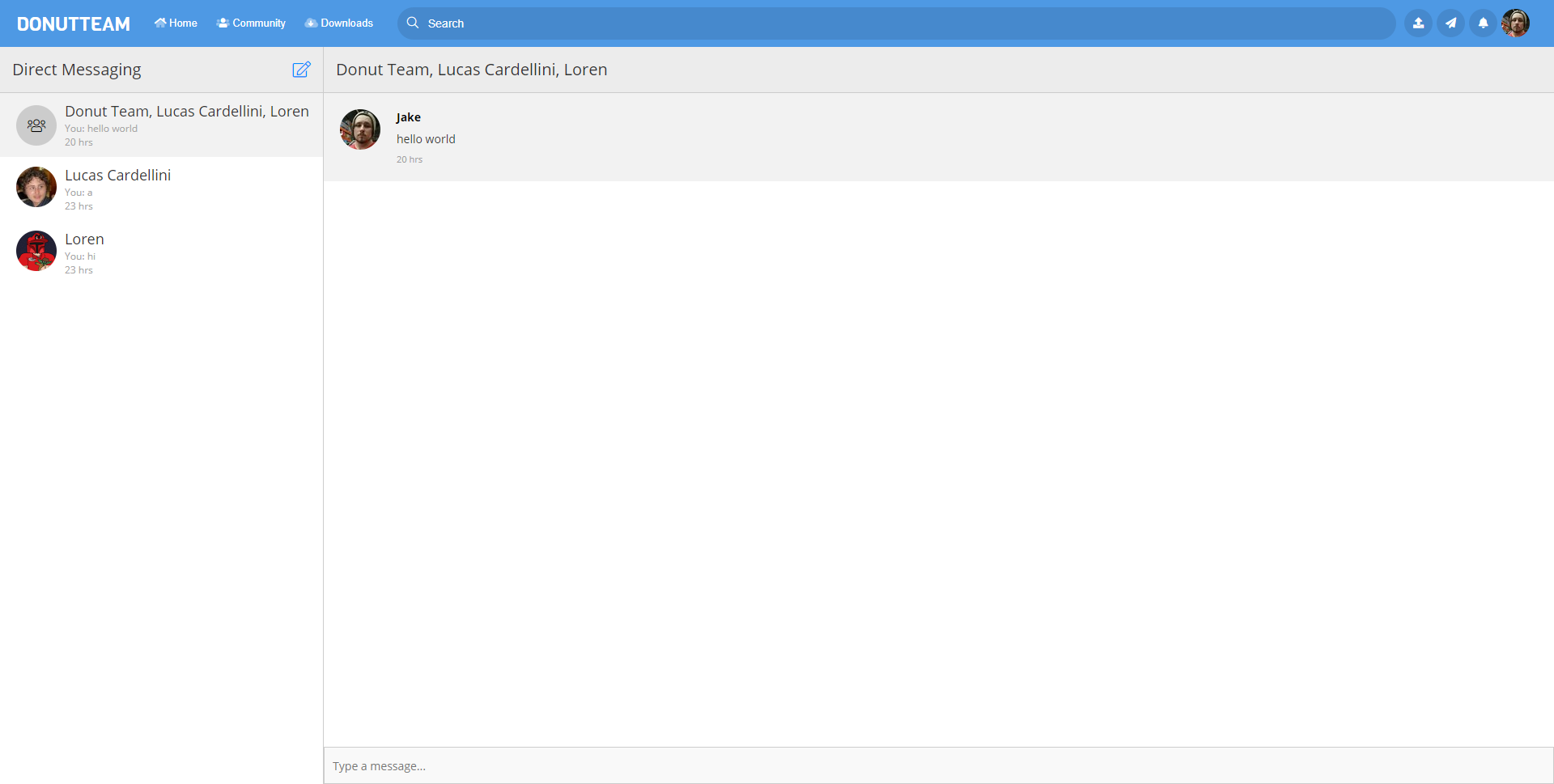 Mod Discovery
Planned. This feature will allow mod creators to create a mod topic and then click "Enable Mod Discovery" at the bottom of their post.
Once there, they will be greeted with a list of requirements for Mod Discovery. If you pass all the requirements, you then can insert a mod title, description, internal name, version, upload an image for it, upload a file for it and submit it.
Once submitted, it will be sent to the Community Team for approval. Once approved, your mod will show up on our new "Mods" section of the website, that will be separate from the forum. At the bottom of your mod's page, it will link back to your forum thread allowing users to comment and read more about your mod.
When you want to release an update to your mod, you will have to re-submit and await approval. However, you will not be removed from Mod Discovery during this time, your mod's page will just show the previous version. Certain changes may omit the need for re-approval, such as minor bug fixes.
A user can subscribe to your mod and be notified when it updates. Your mods will be listed in a separate area of your profile as well to highlight your creations. Upon your first submission being approved, you will receive a badge for being a creator that you can highlight on your profile.
Once this releases, we plan to remove the ability to submit mods through the Legacy Content Submission System. You will be able to migrate your mods to work with the new system for a fixed amount of time. We will reach out to creators through Donut Team's notification system, email and Discord to help move them to the new system if they would like to. We're unsure of the timeframes for how long the Legacy Content Submission System will still work with existing mods, but we'll adjust this plan depending on how creators respond to moving to the new system.
Post Statistics (Post Data Hub)
Mostly complete. This feature will allow users to view information about their post and how it is being received. You may also view older drafts of the post if you're the author or a moderator. We plan on assessing this feature more once it goes to live.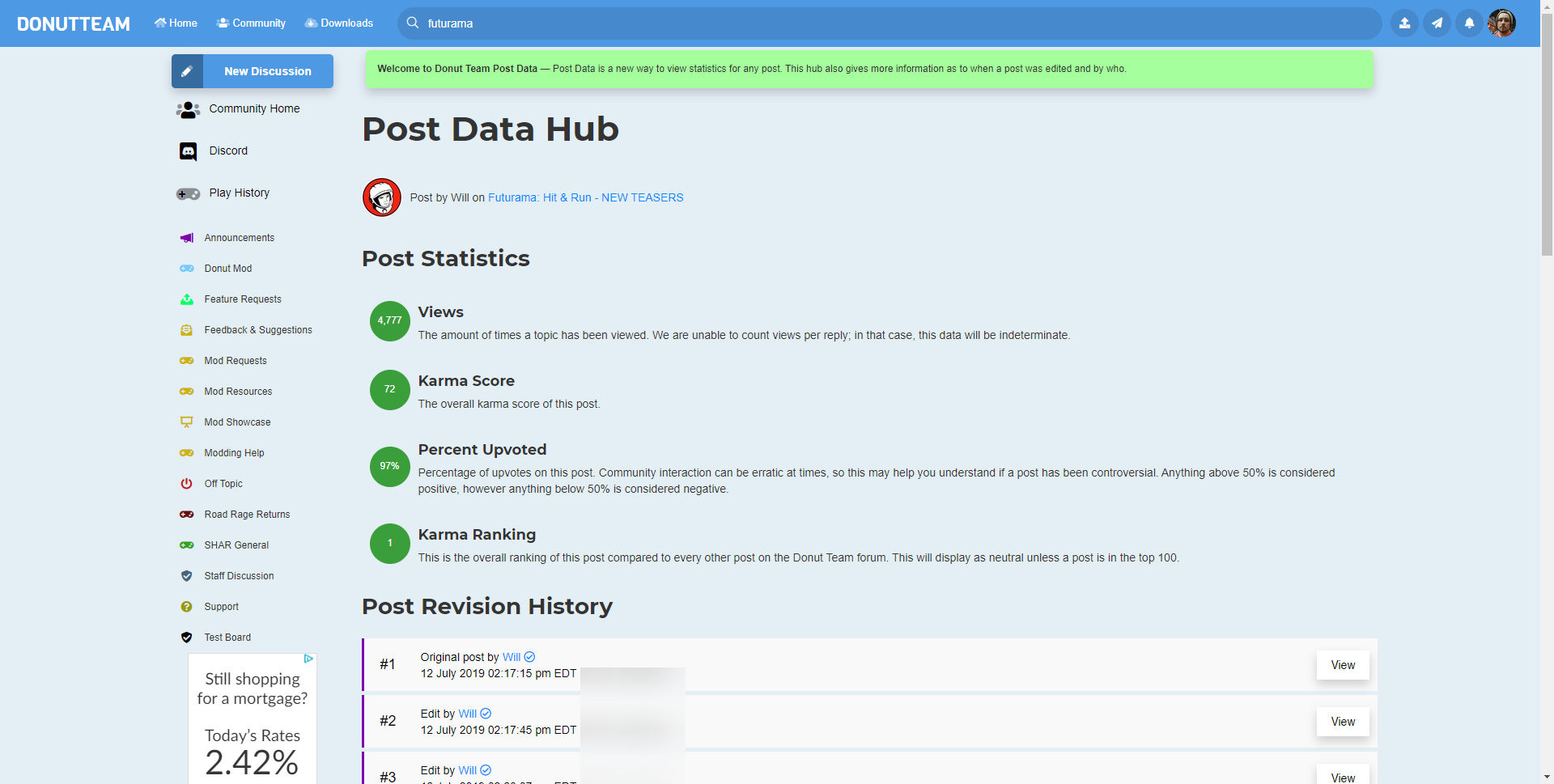 Top Responders
Complete. This feature highlights the highest karma scoring users per topic to showcase who's giving out the most helpful or insightful information in a topic. This will be available in the sidebar.
Grid BBCode
Complete. A new way for formatting images, videos and text side by side in BBCode.
Examples: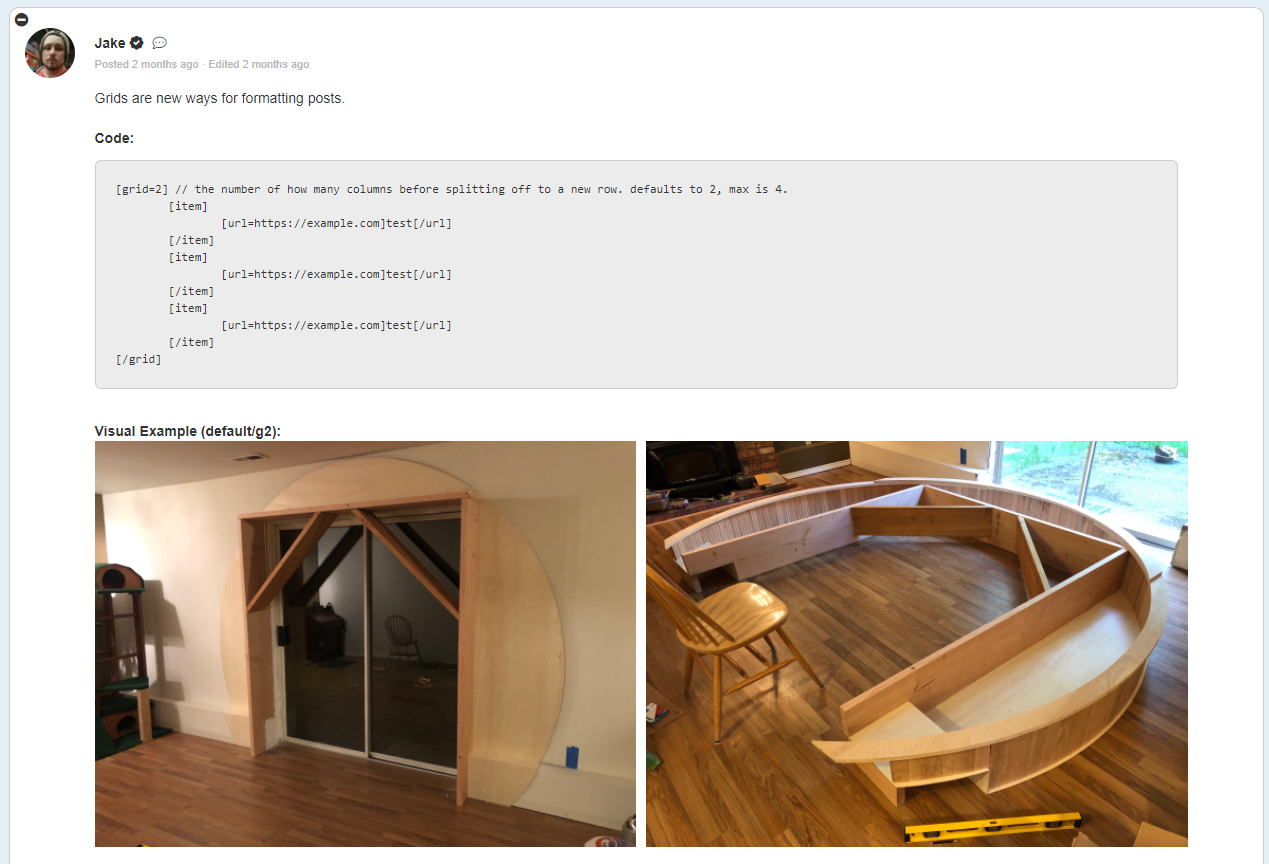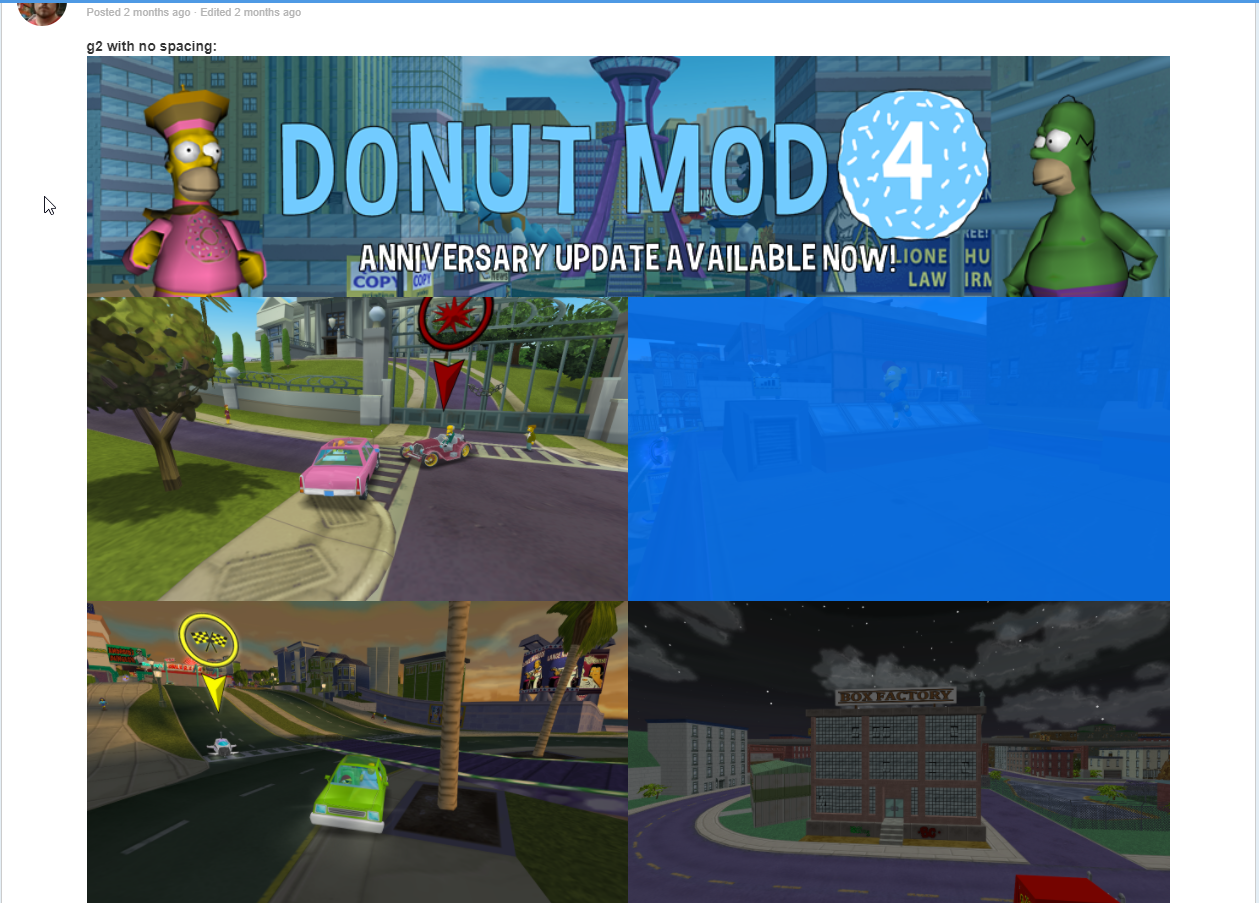 Notice that in the second image, one of the images is highlighted showcasing that they're separate images creating one cohesive grid.
Auto-linking
Complete. Putting a link without a URL tag around it will now auto-tag it as a link to solve issues with new or inexperienced users not tagging their URLs correctly.
Not currently scheduled features
The following features are planned, but not currently scheduled for any release yet.
Languages
As you're probably well aware, we have an issue on this forum where we have a lot of new community members joining who do not speak English. We want to allow other languages, but it becomes harder to moderate and keep the conversation going when we're not fully sure what is being said. While we want to allow everyone to participate and allow other languages in the process, this introduces complications in regards to moderation and communicating in these conversations.
Because languages and translations are a very complicated subject to approach not only from a programmatic standpoint, but from a leadership standpoint, we will be developing these features at a more slow pace than other things to ensure we do not create community segregation and promote a healthier community.
Using Artificial Intelligence to set a language for topics that have already been submitted so that users only need to focus on new topics. (Mostly Complete)
Setting a language per post that will identify what language is being used in your topic.
Setting a default language at the account level which will be used to tag your posts.
Language Filtering (i.e. Ability to block certain languages from showing up in your feed)
Ability to translate a post directly from the site.
Community Forum Translation Support

The community will be able to translate individual posts. Posts will allow AI translation (via Google Translate) or through the use of community submitted translations.
You will be able to disable the option for your post to be translated by the community if you feel its not being used correctly.

Website Translation Support

This feature will require community submissions to keep the website's translation data up to date.
This feature will also require a major rewrite of most components of the site to ensure that translation data stays intact.

A Translator Guidelines section of the website
If other languages become more prevalent, we will create separate forums for these languages and add new moderators who are bi-lingual.
Subscription Management
The ability to change how you receive subscriptions is something we've been asked a lot about. Moving forward, we are investing in creating the following tools:
Email notifications: You will have to opt-in to what subscriptions you want to receive daily or weekly email notifications for. This is not on by default.
Blocking certain notification types from specified users:

Some people have indicated they want to be subscribed, but not be notified for every post.
This feature would allow you to receive all notifications from a user, some notifications, or none. For example, maybe you want mod updates from a user, but not when they create a new topic.
Blocking Users
The ability to block a user is something that is also coming. We want to do this in a way where the person who is blocked can not tell they're blocked. Here's how we plan on doing it:
Blocking a user will make it so their posts are automatically hidden.
They will be able to send you messages, but you will not receive them. It will appear to them as the message has been delivered when in fact it hasn't.
They will be able to subscribe to you, but will receive no notifications of your actions.
We will hide any new posts from you from when you blocked the person. To them, it will appear as if you are no longer active on the site.
Closing Notes
We hope this small glimpse into what we're working on for the site intrigues you and helps alleviate any worries that we're not working on things. There is so much to be excited for and so much for us to do, so we hope you are ready for these awesome upcoming features. There's way more than we've announced here that is already done or being worked on, and we can't wait to show you the full list when we're ready to launch.
Thank you for reading and I hope to see your feedback below!
Sincerely,
Jake
Community Director